The existence of both the Church and our particular parish relies on the participation and cooperation of its members. There are numerous opportunities for all members to become involved in the life of the parish. Please consider donating your time and talents to one of the following areas:
Groundskeeping (exterior landscaping, gardening, light snow removal)
Building Maintenance (changing lightbulbs, restroom supplies, touchup painting)
Church Cleaning
Readers (Male and Female)
Chant Group
Candle Bearers (youth candle bearers and Adult coordinators)
Bethany Ministry (Parishioners helping parishioners, visitation of shut-ins, prayer groups)
Welcome Committee (Greeters, welcome new parishioners)
Social Hall Management (assist with management – marketing, planning, coordination, and labor – setup, cleanup, assistance during events)
Decorating (Christmas, Easter, Feast Days)
Eastern Christian Formation
Fundraising
Parish Slavic Food Festival
     – Baked Goods
     – Basket Donations
     – Volunteers for Setup and Cleanup
     – Volunteers during the festival
Other (describe other areas in which you are willing and able to help out)
If you are willing to get involved, but don't know where you fit in, contact the rectory and we'll find a place for you.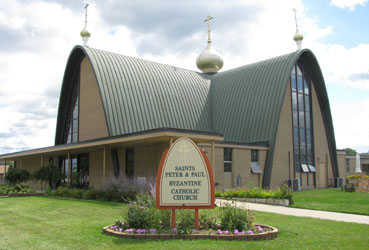 For additional information or to help out, contact Fr. John at 825-8140.