November 8
The Feast of the Archangel Michael and the holy Angels indicates to us the significant role the Angels play in our salvation. Before the Lord God created man, He created the holy Angels who are invisible, immortal, perfect beings and pure spirits. Throughout our lives, our guardian angel watches over us, protects us, inspires us, warns us against sin, and intercedes for us before God. From this comes our duty to venerate the holy Angels, to praise them, and to thank them every day for their assistance and protection.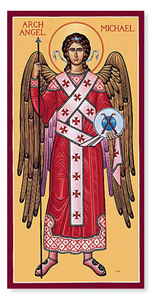 The praise of Michael stems from the fact that in defense of God's glory he led all the good angels against the rebellion of Satan (Revelations 12:7-9). He is depicted both as a military leader clad in full armor and as a minister wearing the deacon's sticharion.

The Feast date of November 8th originated with the dedication of a church, the basilica Michaelion in Constantinople which, according to tradition, was built by Constantine himself in the 4th century.
All heavenly Powers, holy Angels and Archangels, pray to God for us sinners."